END CHILD SEX ABUSE.
A kid on your street is a victim. Your child's schoolmate is a victim. Someone you work with is an adult survivor. It's everywhere. Let's end it.
The Just Be Foundation arms people like you with the knowledge, tools, and training you need to identify, stop, and prevent child sex abuse.
DONATE
THE BOOK
The Price of Innocence: Child Sex Abuse and What You, Your Organization, and Your Community Can Do About It
Most books about child sex abuse are memoirs (written by survivors), therapeutic (written for survivors), or academic (written about survivors). But what about the everyday person who just wants to protect the child in their life right now?
LEARN MORE
THE HARSH TRUTH

1 in 4 girls is
Sexually Abused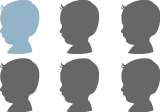 1 in 6 boys is
Sexually Abused

90% of Predators are
Friends, Family, and Neighbors
OUR WORK
TRAINING
Changing the
workplace &
community
ASSISTANCE
Changing survivors'
futures